The Riveter Riding Shirt - Black Herringbone
Check out our Riveter sizing video to better determine which size is right for you.
Made For Women Who Ride
The Riveter Riding Shirt designed by and for women riders. It's the perfect balance of fashion and function. With its unique 12oz denim shells, vintage bandana lining, and pearl snaps, The Riveter embraces the style of vintage American western wear.
The protective lining will help save your skin and covers all your high-abrassion areas; while low profile pockets for removable D3O® armor at the elbows protects them from hard knocks.
Lighter than a leather jacket but much safer than riding in a tee or flannel. In cooler weather, layer a hoodie underneath and/or a vest on top for a solid 3 season option.
The Riveter also gives you TONS of storage, with large hand pockets, chest pockets, and two huge inside pockets, you can leave your purse at home and still bring all your stuff!
Made in USA.
Design
Western Style
Contoured Fit
Convenient storage pockets
Zipper and Snap front closure
Protection
Abrasion resistant lining Elbows, Shoulders and Back
Pockets for Elbow Armor
Contents
100% Cotton Shell
100% Cotton Back Liner
Sleeve Lining 100% Polyester
Abrasion resistant Lining made with 100% Dupont ™ Kevlar ® fibers
YKK Zipper
Women Want More Options
As women riders we don't want to sacrifice style for safety, or vice versa. We know the importance of solid protective gear and want the peace of mind knowing there's something between us and the road if things go sideways.
But, most women's gear feels like a second-thought version of men's gear, or something some guys designed thinking, "girls will like this, it's pink!"
We think we can do better. The Riveter Riding Shirt was designed by women riders, for women riders with protection and fashion in mind.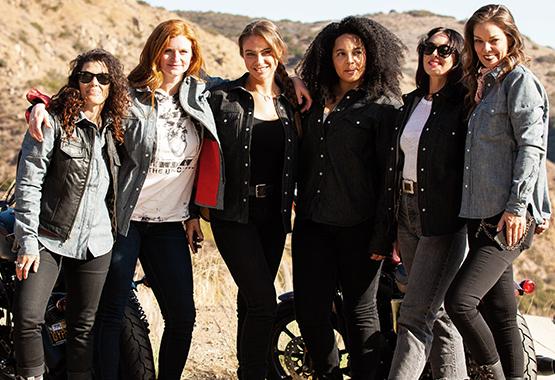 Protection Brings Peace of Mind
We know the risks of riding, but it hasn't stopped us yet! Still, the old saying, it's not if you go down but when, is sadly a little too true. That's why smart riders use protection!
Road rash hurts. The Riveter Riding Shirt features a protective lining in the elbows, forearms, shoulders and back, protecting your skin from the scraping hot road.
Elbows go down hard. Often the first point of contact in a moto accident, the Riveter has pockets for removable CE rated D3O® armor to save your funny bones from serious bumps and bangs.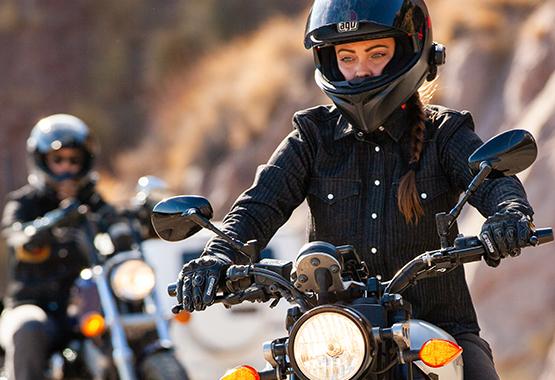 Fashion Forward
Just because we ride motorcycles doesn't mean we want to be mistaken for a dude. On the contrary, we're proud to be women riders and want our gear to look as good as we do!
Vintage Western Style. The Riveter was based on one of our favorites, the western denim shirt. It's fitted for a woman's body and has all those country lines and pearl snaps that make these shirts a super cute classic.
Special Fabrics and Colors. We selected amazing shells like faded indigo canvas and black herringbone denim, then added vintage washed linings, in a unique western floral pattern, to the back and cuffs. Just enough to make it pop!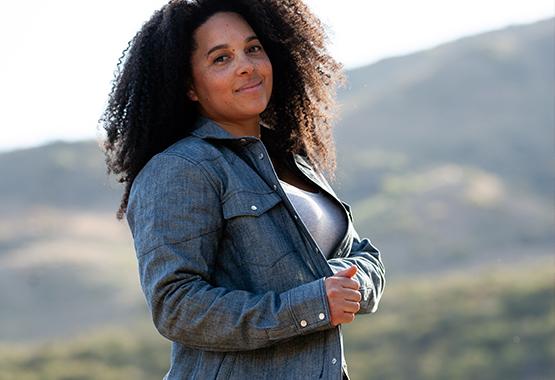 DuPont ™ and Kevlar ® are trademarks or registered trademarks of affiliates of DuPont de Nemours, Inc.
Returns Policy
This Policy is subject to change. By using our site you agree to this policy.
We understand that ordering clothing online requires a certain amount of guess work. We try to help as much as we can by providing ample sizing information. After receiving and trying our jeans, if you wish to exchange for a different size you may do so as long as the jeans have not been worn, washed or used and are in new condition. Return shipping must be paid by the customer. Tobacco will pay for shipment and send the new pair after we have received the original product in unused, unwashed condition.
Refunds are available solely for unworn, unwashed, unused items in new condition within 40 days of purchase. Refunds are granted only after the items have been returned to and received by Tobacco Motorwear Company. Returned shipping must be paid by the customer.